General InformationHome » Campground Information » General Information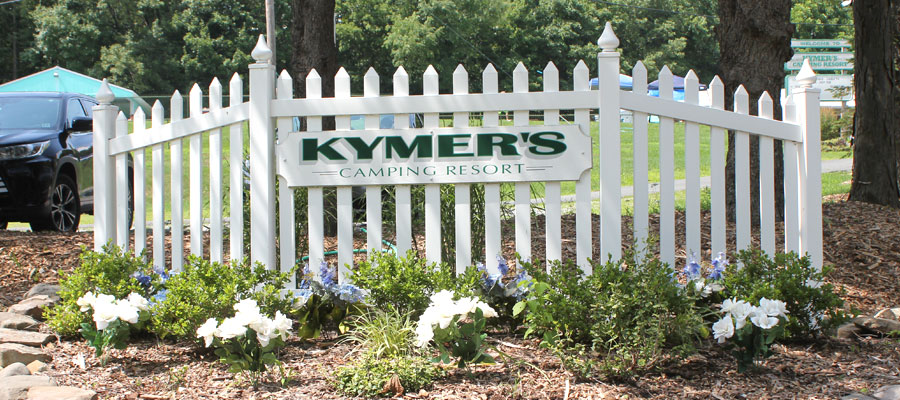 Office & Camp Store:
Summer Hours
Friday & Saturday: 8am - 10pm
Sunday - Thursday: 8am - 9pm
Spring & Fall Hours
         Friday: 9am - 10pm
         Saturday: 8am - 10pm
         Sunday: 8am - 6pm
         Monday - Thursday: 9am - 5pm

In the Spring and Fall, we close early. Check with the office for office and check in hours. Security gate closes when the Office closes.
---
Kymer's Camping Resort is a 200 acre camping retreat loacted in the Kittatinny Mountains of New Jersey. We are open from April 1st - thru October 31.
We offer various types of tent camping and trailer camping campsites and for those who do not own camping equipment, but would like to enjoy the camping experience - we offer cabin and trailer rentals.
We have something for everyone to enjoy!
Book By Phone
Call now for reservations at
800-526-2267
Now taking reservations for the 2020 season! Be sure to let us know if your celebrating a special event while staying with us!
---
Reservation Request
Specials
---
Weekday Special - Summer

Stay 2 nights during the week, and receive the 3rd night FREE! 


Arrival Sunday, Monday or Tuesday

Use discount code WEB2020 when making your reservation.

No double discounts.  
Excludes holiday weeks and holiday weekends. 
Valid May 27 - July 1 and July 8 - Sept 2

"Gas Saver Value Program" - Summer

Summer
Pay for 2 consecutive weekends,
Receive FREE on site fee during the week, includes electric.
Valid 5/27/20 - 7/1/20 and 7/8/20 - 9/2/20
Limited campsite availability.  Not valid on rentals. One discount per family.
Excludes Holiday Weekends.
$190.00 savings value based on 2 Adults for WES campsite.
$170.00 savings value based on 2 Adults for WE campsite.


Celebrating a Special Event?

If you are celebrating a birthday or special event when visiting Kymer's - be sure to let us know when making your reservations!


HALLOWEEN WEEKEND

October 9-12, 2020
Columbus Day Weekend
Invite your family and friends to come along for a enjoyable weekend relaxing in the great outdoors and the kids enjoy all the Halloween activities! 

thank you Kymers and all the staff for the excellent customer service, we enjoyed our memorial day weekend!
- Melinier Rodriguez


Kymer's is our favorite getaway! The campgrounds are very well kept, the staff is polite and friendly, and there are a lot of games and activities to keep the children busy. The individual sites are very well maintained as are the shower and bathroom facilities.
- Penny Schneider Clark


My family and friends always have a wonderful time. The kids enjoyed their weekend to the fullest!
- Roxana Elizabeth


1st time camping @ Kymers had an awesome time very clean grounds,personable & attentive staff bathrooms were clean & maintained regularly. They also had activities & presentations for the kids. On our arrival another camper hooked a cable line on their way to their site staff had it repaired that day. Can't say enough about our experience we will definitely be back.
- Shane Mckinney
May 2017